We are excited to share the research, education, and advocacy efforts of the pediatric academic community with you at PAS 2021 Virtual!
Here is what you can expect from PAS 2021:
60+ specialties and 500+ hours of top-level science and education

Attend live sessions online or watch on-demand at your convenience

Participate in live Q&A and networking in a variety of ways

Access to recorded presentations and E-Posters through January 2022

Flexible two-phase schedule to minimize "Zoom" fatigue
This year, PAS 2021 Virtual will be delivered in two phases.

We know time and budgets are limited. New this year, choose from two registration options.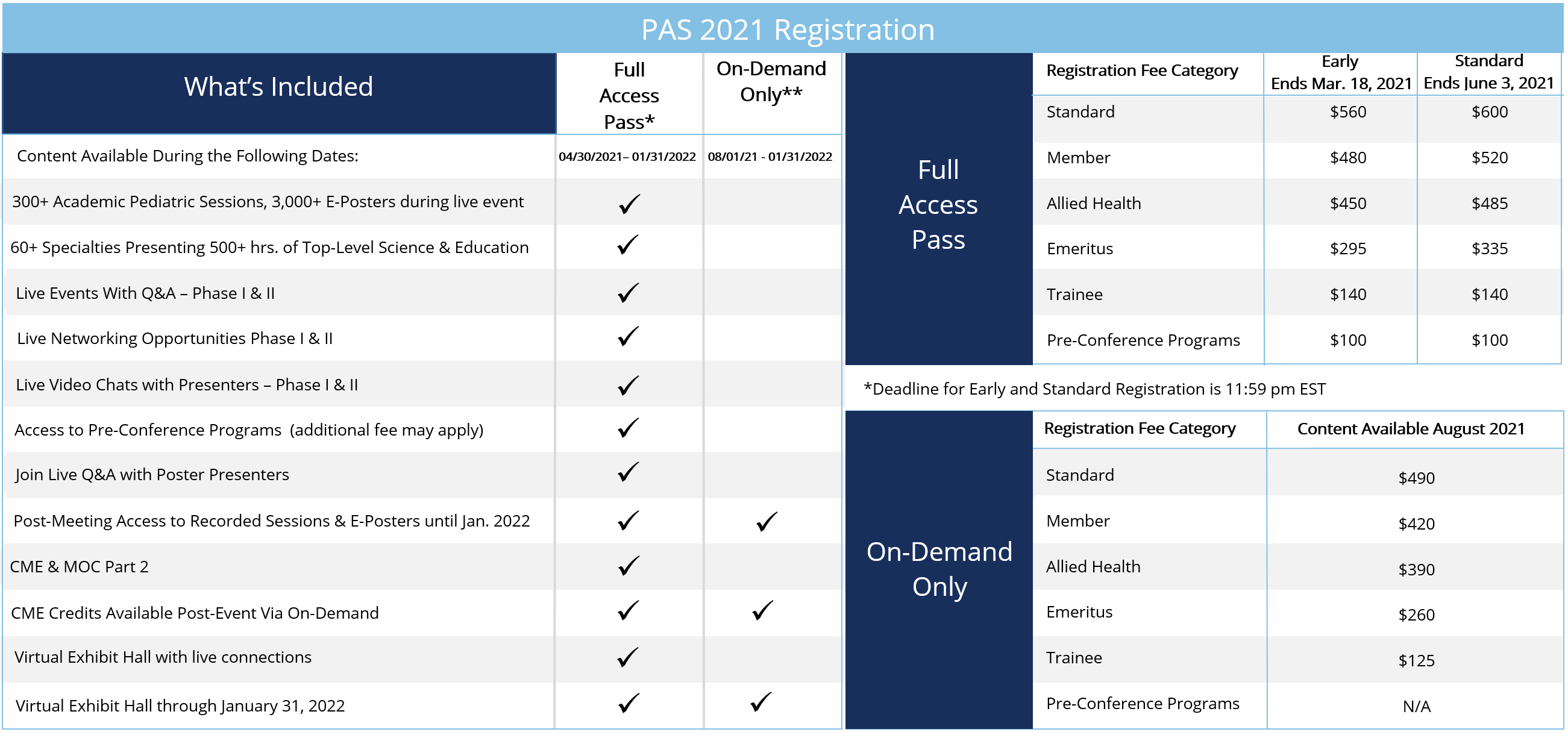 *Full Access Pass includes online participation in all the "Live" Phase I & Phase II program events April 30, 2021 – June 4, 2021, and access to recorded programming until Jan. 31, 2022.
**On-Demand Only includes access to recorded programming available August 1, 2021 – January 31, 2022.
REGISTRATION RECEIPT
A registration receipt will be auto emailed to the registrant's email address immediately following online meeting registration.  Please note the receipt will come from "mail-sender@central-office.info" and could land in your Spam/Junk folder.
Meeting registrations cannot be transferred to another person. If the registrant cannot attend the meeting for any reason, his/her registration must be canceled, and the replacement person must register for the meeting separately.
REGISTRATION UPDATES/ADD EVENTS
To review your registration information, make address changes, or have your confirmation re-sent, enter the email you registered on the registration page and follow the instructions.
REGISTRATION CANCELLATIONS / REFUNDS
A 20% fee will be withheld from registration cancellation or change requests on or before April 20, 2021. We regret refunds or change requests cannot be issued or made after April 20, 2021.
REGISTRATION SUPPORTED WINDOW BROWSERS
Windows Operating Systems
Internet Explorer 9, 10 and 11
From the menu bar, select Tools->Internet Options.
Click the Privacy tab and un-check the Turn on Pop-up Blocker check box.
Click OK to save the change.
Mozilla Firefox 69x
Google Chrome 77x
Mac Operating Systems
Mozilla Firefox 69x
Chrome
CERTIFICATE OF ATTENDANCE
PAST PROGRAMS